We both took a day off of work (for different reasons) and made it a day of fun activities. It started with a little bit of sleeping in, which is always nice in the middle of the week. Once done with that, we hung out with some friends for a little bit, and Joe played story teller - something he does very well.
We then grabbed some Einstein Bros. and headed to
Mount Bonnell
. According to AustinCityGuide.com, "Austin's Mount Bonnell is one of Austin's oldest tourist attractions being documented as far back as 1850. It is the highest point within Austin City Limits at 785 feet." Like everything else we try, Mount Bonnell has been recommended by several people for beautiful, scenic views, which sparked our interest. It did not disappoint.
We went at a pretty toasty time of day, around 2:30 p.m. The puppins came along with us, of course. Mount Bonnell is located off of 35th Street, west of Mopac. The winding road takes you through West Lake Hills and some lovely houses. Once you turn on Mount Bonnell Road, you know you're climbing a mountain - Joe's Honda got a workout driving uphill.
After parking, we walked up a steady flight of rocky stairs in the shade. We came out on a round sitting area with several sets of natural rock benches and a lookout spot with the most gorgeous view of the Colorado River and the wealthy bits of Austin. By this time, Gypsy is panting like she just ran a marathon.
We continued down a rock path with lookouts on our left of boat docks, mansions and hillcountry scenery. After walking for about 10 minutes, while sweat dripped in our eyes, down our backs and through our hair, we realized the poppins pads were burning up and it was definately time to go. I wish it hadn't been so hot or we would have kept going.
Luckily we had a cup of ice water for Gypsy to drink out of, because I have never seen her pant this hard or this much. I carried her little scalding body back up the hill and down the stairs to the car, where we blasted the AC and headed home.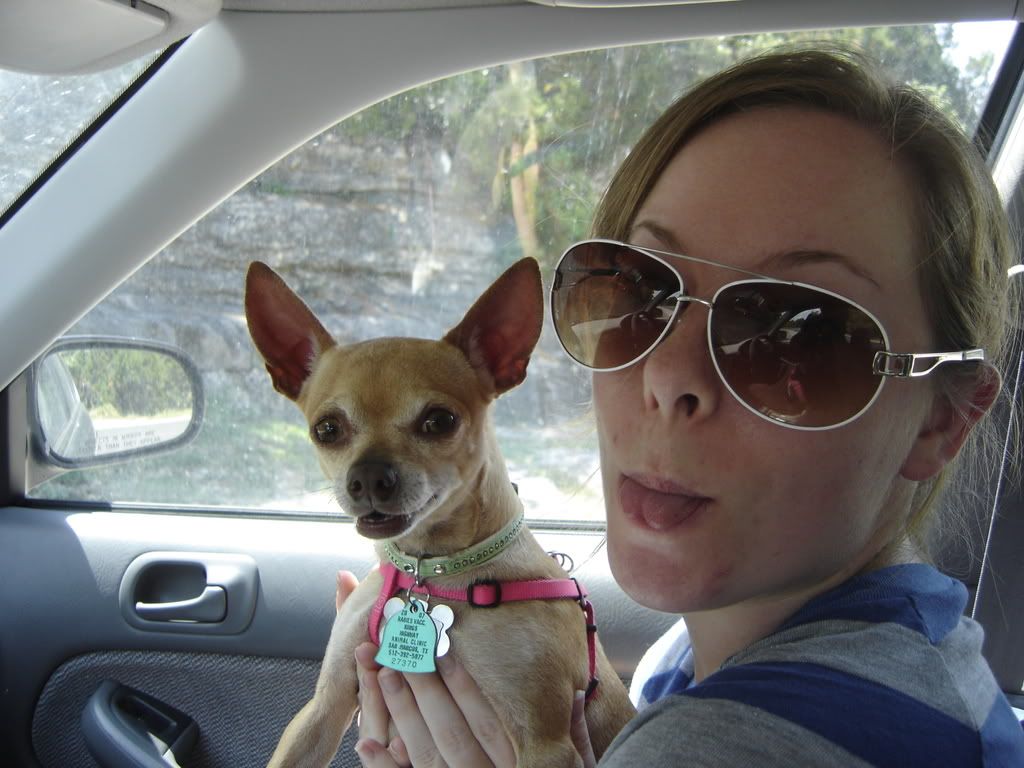 But before we made it back to Mopac, we passed the Mayfield Nature Preserve (now added to our list of to-do's) and saw a colorful and stoic peacock.
Joe and I concluded the evening with our first Capital City A&M Club Happy Hour. We did our best to meet and greet and make friends. Joe even found out about
National Karaoke League
from the president of the club. We'll see what happens with that! :)